Happy Birthday to all these awesome, strong actresses (just like Jennifer Lawrence!): Keri Russell, Catherine Keener, and Michelle Monaghan!
Oh my goodness... It's here... IT'S FINALLY HERE! The Hunger Games... We've all been waiting a while, feels like forever, and it's finally here! So, let's get pumped up!
Let's go back, when all of us were just getting into the books. This is how we saw the characters before we had a cast:
And now we have this:
And this:
And this and this and this: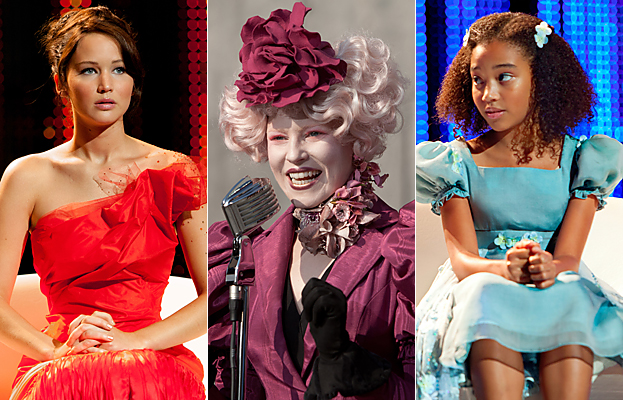 We also have video... VIDEO!!! to go along with all the awesomeness:
Love it! I think this song fits the movie soooo well!
I'll go ahead and admit it. I haven't read all the books *ducks vegetables* Wait, wait! There's a very good reason. I flew through the first book because, as we all know, it is amazing. Then, I went directly into Catching Fire. I got about a third or halfway through and couldn't take it. I was (and still am) so emotionally invested in these characters that all the craziness that happens to them was too too too much for me to take especially after having JUST finished the first book. So, I put it away... That was months ago. I plan on reading as much of Catching Fire today as I can before we go to the 9:20 showing (6:40 was SOLD OUT! I knew I should have bought earlier).
So, that said, let's talk about all the great stuff we're excited to see:
*SPOILER ALERT*
DO NOT GO ANY FURTHER IF YOU HAVEN'T READ THE FIRST BOOK AND YOU WANT TO BE SURPRISED BY THE MOVIE!!!!!!!!!!!!!!!!!!!!!!!!!!!!!!